Building Adult Capacity and Expertise
Why Building Adult Capacity and Expertise Is Needed
The needed transformations in learning environments and experiences for students necessitates similar shifts in the ways educators are prepared and supported across the career pipeline. The science of learning and development has made clear that young people need educators who are well versed in the knowledge of how to support their academic, cognitive, social, and emotional development and the skills to create safe, affirming, and engaging learning environments. Educators cannot do this alone. They need a social commitment to building a system that supports their continuous learning and development. They also need comprehensive efforts to redesign schools to enable them to enact their knowledge and skills in a collaborative space where they and their students can thrive.
To build adult capacity to support the whole child, states can do the following:
1Design educator preparation systems that prepare teachers and school leaders with the knowledge, skills, and dispositions needed to support whole child developmental needs and students' development of 21st-century skills

2Adopt proactive teacher recruitment and retention strategies through high-retention pathways, including high-quality teacher residencies and rigorous Grow Your Own programs, service scholarships and loan forgiveness programs, strong hiring practices, and competitive compensation

3Support high-quality mentoring and induction programs that integrate whole child approaches and ensure that novice educators receive the comprehensive supports needed to remain in the profession and succeed

4Promote high-quality professional development linked to growth-oriented educator evaluation and improvement systems that support student and educator development and encourage teacher collaboration and reflection

5Support educator and staff well-being by adopting policies and practices that decrease stress and burnout and create positive working environments
Policy Strategy 1

Design Educator Preparation Systems for Whole Child Learning and Development
High-quality, comprehensive preparation of both school leaders and teachers is key to ensuring they have the knowledge and skills to support students' whole child developmental needs. Evidence suggests that teachers who are better prepared feel more efficacious, experience less stress at work, and are more likely to stay in the profession. In contrast, teachers who lack comprehensive preparation are significantly more likely to exit the profession in their early years compared with those who are fully prepared. Similarly, high-quality principal preparation programs that prepare school leaders for the realities of supporting students and teachers and establishing a positive school climate can help disrupt the costly turnover of both principals and teachers.
Strong certification and teacher preparation systems rely on the essential elements outlined in Figure 4.1. State systems function to guide high-quality practice, while strong certification and preparation systems support broad access to high-quality preparation and professional development. Taken together, these two areas of focus function as "two hands clapping"—working in ways that are necessarily interconnected. When both hands join together, the essential elements are in place for states to recruit a sufficiently large and diverse pool of aspiring teachers while also providing teacher candidates and new teachers the learning experiences that support their growth and development, plus assessments that allow them to demonstrate their ability to support learning for all students.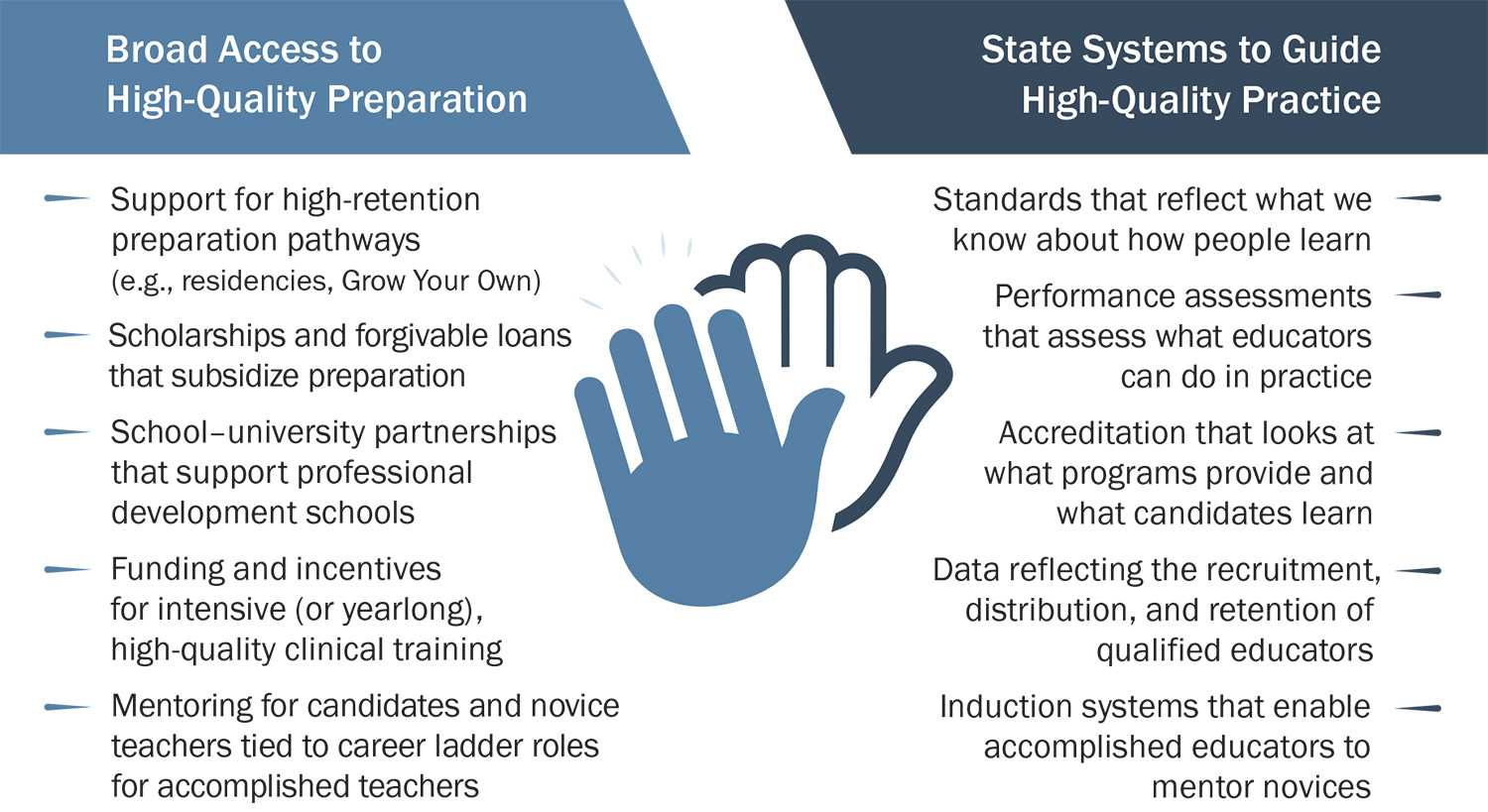 To ensure a stronger educator pipeline, states need to ensure high-quality, evidence-based preparation systems for (1) k–12 teachers, (2) school leaders, and (3) early childhood educators.
Policy Strategy 2

Adopt Proactive Teacher Recruitment and Retention Strategies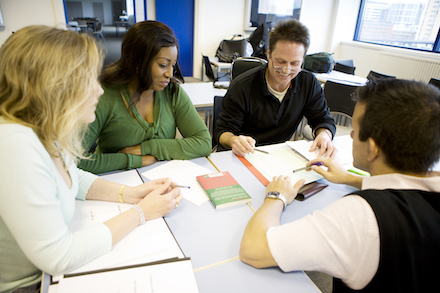 A large body of research suggests that certified and experienced teachers matter for student achievement and teaching quality. For example, a review of 30 studies found that teaching experience is positively associated with student achievement gains and that as teachers gain experience, students learn more and do better on other measures, such as school attendance. This research has also found that more experienced teachers not only increase student learning for the students they teach but have positive impacts across the school community as well.
Yet despite existing research, data suggest that compared with prior decades, the teaching workforce has become less experienced. This is especially problematic given that inexperienced teachers (i.e., having less than 3 years of experience) tend to be concentrated in schools serving historically underserved students, particularly students of color. A recent report found that students enrolled in schools with a high proportion of students of color have less access to certified and experienced teachers compared with students in schools with a low proportion of students of color.
Several promising strategies have emerged to help recruit and retain well-prepared and diverse educators, including:
High-quality teacher residencies, Grow Your Own programs, and service scholarships and loan forgiveness programs, which are effective in addressing teacher shortages and encouraging historically underserved students to enter and remain in the profession

Hiring practices that promote educator quality and diversity

Competitive compensation for pre-k–12 educators

Principal preparation and development
The Teaching Profession Playbook
The Partnership for the Future of Learning, in collaboration with 26 organizations and several individual experts, created the Building a Strong and Diverse Teaching Profession playbook, offering a comprehensive set of strategies that work together to recruit, prepare, develop, and retain high-quality teachers and bring greater racial, ethnic, and linguistic diversity to the profession.
The playbook includes examples of legislation; a curated list of publications, by topic, for further reading; a guide to talking about teacher shortages and strengthening the profession; and examples of research-based policies.
Policy Strategy 3

Support High-Quality Mentoring and Induction Programs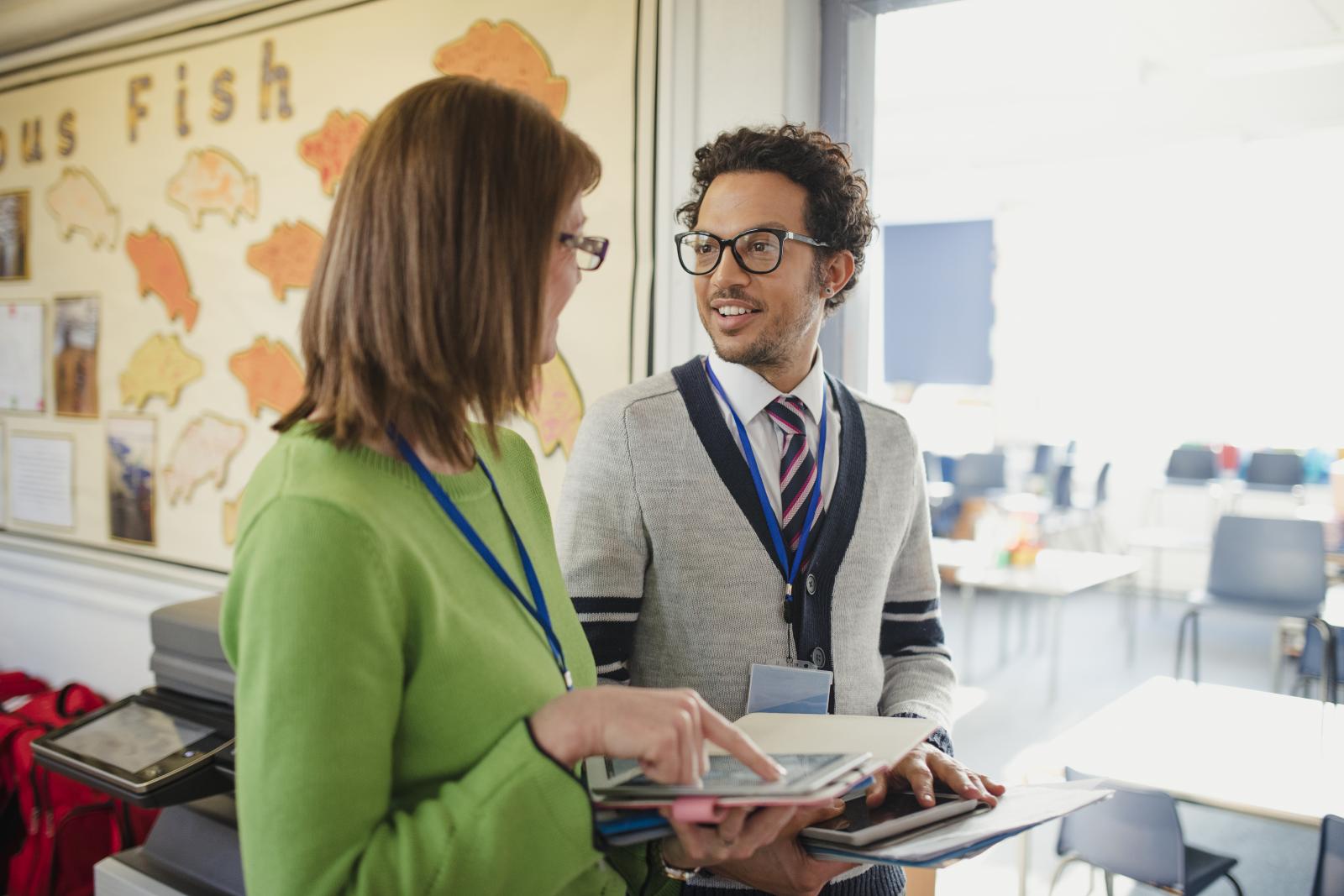 High-quality mentoring and induction programs for novice teachers are another effective strategy to improve educator retention, support professional growth, and increase student outcomes. Research has identified key elements of high-quality induction programs that are associated with lower levels of turnover among novice teachers. For example, effective induction programs include mentoring, coaching, and feedback from experienced teachers in the same subject area or grade level; opportunities to observe expert teachers; orientation sessions, retreats, and seminars; and having regularly scheduled collaboration time with other teachers. Research has also found that educators who receive these types of induction supports are more than twice as likely to remain in the profession compared with educators who lack these supports. Induction programs have also been linked to improved instructional effectiveness and positive impacts on student achievement in the years following the program.
While many novice educators have access to some type of mentoring or induction programs, survey data suggest that many do not receive the comprehensive supports that research has found to be effective. The quality of such programs also varies widely, and the programs are less likely to be available for educators in low-income schools. During the Great Recession, the number of states supporting mentoring and induction programs decreased, and fewer teachers received mentoring in 2012 than in 2008. A 2019 state policy scan found that 31 states require induction and/or mentoring support for new teachers, and roughly half of those states require those programs to last 2 or more years. Given the benefits of mentoring and induction programs, state efforts should be directed at increasing access to these programs and ensuring their alignment with the evidence-based elements of effective programs. States can also increase the number of National Board Certified Teachers (NBCTs) serving as mentors. National Board Certification allows applicants to demonstrate teaching expertise through a rigorous, standards-based performance assessment requiring submission of a teaching portfolio, videos of teaching, reflections on teaching, lesson plans, and evidence of student learning. Research has found that students taught by novice teachers mentored by NBCTs had a higher level of achievement than the students of novice teachers mentored by non-NBCTs.
Policy Actions
States can support high-quality mentoring and induction programs by:
Increasing access to comprehensive teacher mentoring and induction programs for all new teachers. Comprehensive mentoring and induction programs are an important part of ensuring that novice pre-k–12 teachers receive the types of supports that keep them in the profession and that build their capacities to meet the needs of all students. States may consider increasing funding to provide more comprehensive teacher mentorship and induction programs for teachers in their first and second years of teaching and more intensive supports for those serving under emergency certification. Because novice teachers tend to be disproportionately concentrated in districts serving high proportions of students from low-income families, states should consider distributing funding for mentoring and induction programs based on the number of novice teachers teaching in a district. Such funding may be coupled with training to support mentors' work with new teachers. States should also continue to study the effectiveness of their mentoring programs and refine their designs as needed.
Developing new or supporting existing mentoring and induction models that highlight and integrate whole child approaches and mentor–teacher training and coaching. For example, states can build the capacity of educator and mentor cadres with expertise in whole child approaches to improve the quality of the learning environment (e.g., trauma-informed instruction, restorative practices, integration of social and emotional learning, project-based learning, and culturally responsive teaching). States can also increase investments in National Board Certified Teachers, who can serve as skilled mentors for novice teachers as well as residents and student teachers, and who can bring their expertise to other critical teacher leader roles.
View the State Policy Library for additional examples of mentoring and induction programs.
Policy Strategy 4

Promote High-Quality Professional Development Linked to Growth-Oriented Evaluation Systems
As with children's learning and development, educators also require a supportive context and collaborative culture in order to improve and grow their whole child teaching practice. Creating this environment requires a focus on individual practitioner development as well as a commitment to a broader systems-level approach to supporting educators at the school and district levels. Professional learning systems should therefore be guided by helping educators continue to develop the knowledge, skills, and dispositions needed to create the learning environments and rich learning experiences students need to thrive, as well as by a vision for collective school and system redesign that allows teachers and leaders to implement these changes.
To create a system in which educators feel supported to learn and grow throughout their careers, states need to (1) support districts in providing high-quality professional development (PD) and (2) develop growth-oriented educator evaluation and improvement systems.
Policy Strategy 5

Support Educator and Staff Well-Being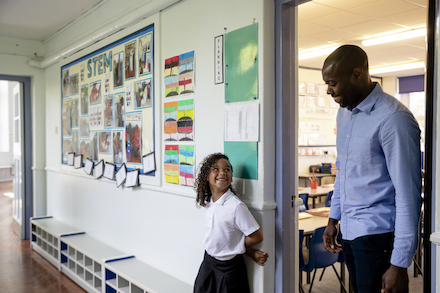 To create and maintain learning environments that enable all youth and adults to thrive, it is necessary to support the social, emotional, and mental health and well-being of educators and school staff. A national survey found that 46% of educators report high daily stress during the school year, tied with nurses for the highest rate among all occupational groups. Educators who have greater stress and show more depressive symptoms create classrooms that are less conducive to learning, which in turn affects students' academic performance. When teachers are highly stressed, students show lower levels of social adjustment and academic performance, whereas when teachers are more engaged, students show higher levels of engagement and achievement. Teacher stress has only been exacerbated during the COVID-19 pandemic. During the 2020–21 school year, teachers were more likely to report a high level of job-related stress and symptoms of depression than the general adult population, and more teachers are now reporting they are likely to leave the profession than before the pandemic.
Given that stress impacts educator performance and student outcomes, it is important to provide supports for educators to manage their stress and well-being. Research has found that educator well-being can be enhanced by:
A supportive administration, particularly in creating a collegial, supportive school environment, which can reduce teacher stress and increase teacher engagement

Mentoring and induction programs, which can improve satisfaction and retention as well as student academic achievement (See Policy Strategy 3: Support High-Quality Mentoring and Induction Programs for more information.)

Workplace wellness programs, which can result in reduced health risk, health care costs, and staff absenteeism

SEL programs, which can improve behavior and promote social-emotional skills among students, helping to reduce teacher stress and creating more positive engagement with students

Mindfulness and stress management programs, which can help educators develop coping and awareness skills to reduce anxiety and depression, and improve health
Policy Actions
States can support educator and staff social, emotional, and mental health and well-being by:
Gathering data from educators on school environments and working conditions as well as their general health and wellness. The state may gather data by conducting staff surveys, through instruments such as the TELL survey (used by multiple states, including Kentucky, Ohio, and Oregon), and tracking educator chronic absenteeism. Such data can help support decisions about allocating resources to improve working conditions. In addition, the surveys can also give educators and staff an opportunity to express their perceptions of the school environment and identify supports to help improve working conditions, manage stress, and promote wellness.

Adopting policies and providing guidance for districts and schools on creating healthy school environments and implementing a comprehensive wellness approach to support educators and staff in adopting healthy lifestyles and managing stress. Policies and guidance may include:

Workplace wellness programs that improve teacher health, attendance, and engagement

Social-emotional supports that help teachers improve engagement with students, families and caregivers, and their colleagues

Teacher stress management programs that improve teacher performance and complement health approaches, such as mindfulness meditation

School redesign that creates the conditions for the transmission and sharing of knowledge among teachers

Comprehensive educator wellness initiatives integrated into existing programs across the career continuum, including preservice, mentoring and induction, professional learning, and leadership training and development
View the State Policy Library for additional examples of supporting educator and staff well-being.